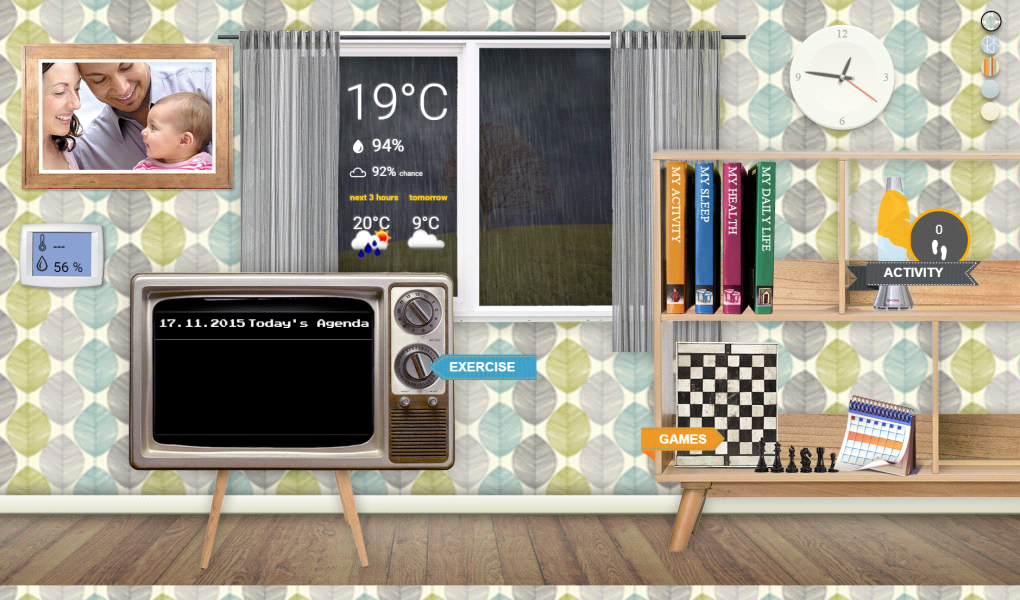 eWALL for Active Long Living
eWALL is the outcome of an EC-funded project that contributes to the prolongation of independent living of various patients types and senior citizens. Unlike traditional eHealth/eCare solutions, the eWALL offers a new experience to the users by creating Caring Home Environments based on advanced sensing and reasoning in an unobtrusive way. eWALL is an affordable, easy‐to‐install prefabricated wall that can be mounted on an existing wall and includes, into the background, all the ICT technology needed to enable a number of services for the senior citizen to cover the major ontologies of Active and Healthy Ageing.
The system is composed of two main subsystems: eWALL Sensing Environment and eWALL Cloud. The eWALL Sensing Environment is envisioned as a logical environment, deployed over a physical space, which is mainly responsible for explicit and implicit interaction with the primary user. The eWALL Cloud is a central processing and data storage subsystem.
eWALL was tested with more than 50 users in Netherlands, Austria, Italy and Denmark with the focus on patients with COPD and MCI. The project was funded by the EC 7th framework program with over 8M€ for a period of 3 years and involved a group of 100 researchers from 13 countries. Telilab team was leading the development process of the intelligent services and applications. More than half of the developed services and applications (including Java based backend microservices and Javascript frontend) were developed by the Telilab team in addition to intelligent algorithms for facial expression analysis, mood analysis from tweets and physical activity recognition from accelerometer data.
TeliLab members related to this project